For the past couple of years, I've heard Groupon extol the virtues of their daily deals email system, repeatedly waving the "we're all about locally owned brick and mortars" flag. Well folks, my blood's boiling right now–that flag needs to be planted on someone else's planet.
From Saturday's Groupon email for the Minneapolis-St. Paul market (click the image to see full scale):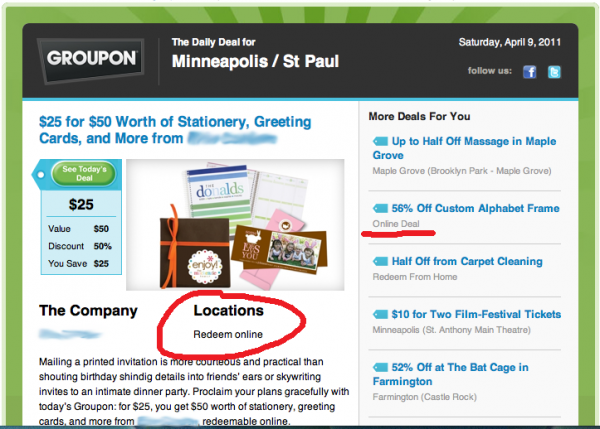 Strike one: Redeem online? What happened to Groupon's claim they're all about driving traffic through local doorways?
Strike two: The merchant is located in El Segundo, California–half way across the country from Minneapolis-St. Paul.
Strike three and call-your-agent-you're-finished: The presumed storefront retailer actually isn't. The street address given on her website points to a printing company, showing her as an "affiliate." The phone number on her website is located in Redondo Beach, five miles from where the printer is—and not associated with any physical storefront I've been able to find after exhaustive online searching.
Translated? I'll bet my bottom dollar this California e-tailer is a home-based business. Not exactly the local brick and mortar flag Groupon likes to wave.
Making matters worse, check out the side bar offer for the custom alphabet frame. Yup. You guessed it. That one's located in Tennessee.
Groupon didn't just drop the flag. They tore the thing to shreds, then buried it in the back yard.
As for where that back yard's located, well…. The definition of "local" is apparently up for negotiation.
{ 5 comments }