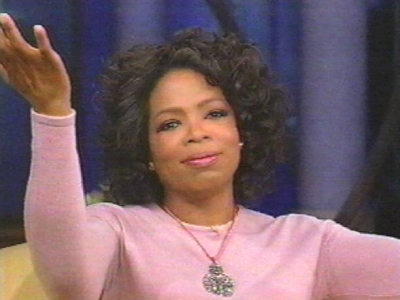 Yesterday afternoon, a friend called, asking if I was near a television. "You'd better see this" was all the explanation she gave when telling me to turn on Oprah.
Having now watched the program, I'm almost as speechless.
Almost. But not entirely. Once I get started on her latest wide-sweeping suggestion, it might be hard to shut me down, so buckle in folks. I'm up on my soapbox, and I'm ticked off.
Today's episode was titled "Simplifying Life and Living with Less." That concept, I'm fine with, assuming it's approached realistically. As is the case in most elements of life, complete and absolute extremes are rarely wise moves.
The show began on a positive note, reminding the audience that the things we own don't define who we are. That in times of financial challenge, it's important to be responsible. That "stuff" doesn't equate to "happy." All true, all things I agree with.
The next suggestions drove things right off the cliff, however, as she suggested viewers not buy anything but perishable food items for a week. No more evenings out. Stop shopping for anything other than absolute necessity items.
Those suggestions might help a family here or there, but the damage done by that kind of all-or-nothing approach is as dangerous as the all-or-all mentality that got us into this mess. Slamming the brakes on any spending not critical for human survival will shut down local business, bankrupt the local tax base, and put more people on the unemployment line than if we just behave responsibly.
Yup. That's right. Behave responsibly. I'm not saying everyone should keep spending like it's 1998 or turn their backs on establishing a budget. Not at all. My personal opinion is that we were long overdue for a wake up call-—me included.
Buying in moderation comes with a lot of positives. It keeps locally owned businesses open, which stabilizes the tax base, which keeps money in employees' hands, which they then spend in local businesses. Full circle. The engine continues chugging ahead, albeit at a slower pace.
Telling viewers to cut out all non-essential spending is irresponsible. How long do you suppose most folks can actually hold to such an austere lifestyle? Hey, it's hard enough to stay on a diet without tumbling right off the wagon and into a bag of Fritos. What makes Oprah think this crash-n-burn diet with the checkbook is going to play out any different?
What our economy needs is moderation. Learning how to live within our means. Spending with thoughtfulness and responsibility.
What we don't need is for someone with such an influential voice to holler "Shut it down."
Related links:
Seth Godin mentions The 3/50 Project
Save the economy three stores at a time
Let's get The 3/50 Project on the Today Show
The Project 3/50 bag stuffers are here
CNBC host Erin Burnett reminds us the battle is about more than just money
Enough with the carnage
The 3/50 Project grows legs
Want to be a 3/50 Project rock star?