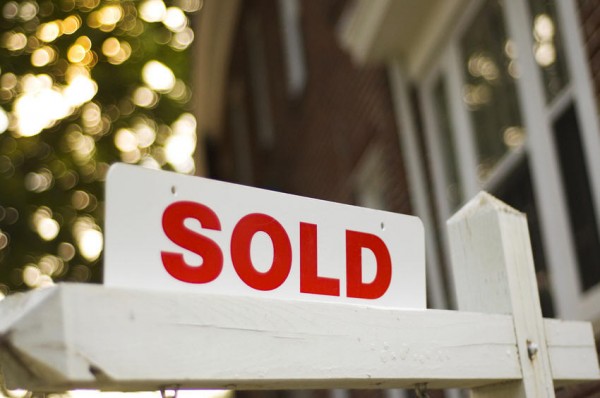 Back in my retail days, I had an upscale gift and stationery store, surrounded by a very, very exclusive neighborhood. One of the largest real estate offices in the Twin Cities metro was located upstairs, providing an interesting opportunity—offer special pricing on items suitable for closing gifts, then appeal to realtors as their go-to source. Sadly, the idea flopped—agents in that particular office preferred to spend as little as possible on clients, regardless of the windfall (they'd gush about selling a $1.8M home, then balk at the idea of spending $25 on the requisite closing gift).
Cross that idea off the list.
Then replace it with a better one. 
We decided instead to appeal to the realty office customers directly. Turns out, that's one of the most lucrative consumer markets around, providing not only new dollars, but the best possible opportunity to build long term loyalty.
We'd frequently build window displays around "new neighbor" themes, showcasing everything from moving announcements to personalized note pads with the address in print. When new home buyers stopped in, we welcomed them to the neighborhood, then asked "What haven't you found yet?," jotting down a list of possible solutions to fit their needs: the best nearby pizza place (happily, in our mall), dry cleaner, florist, coffee shop, bakery, etc., in hopes of helping them ease into new digs.
The more they needed to find, the more we jotted down—on our own personalized note pad, of course, that included our address, phone number and website. Sometimes, they'd walk out with nothing but the list…nearly all the time, they'd be back, and they'd buy.
Better yet, they typically became our best long-term customers…and our most vocal, extolling the store's virtues to friends and family. Win/win.
This morning, I ran across an interesting infographic that validates my theory about new neighbors (click to enlarge):

The amount of revenue new neighbors bring to the community can be staggering, even if you're not in the obvious categories. After all, you sell to humans. They're humans.
Time to connect the dots—especially with the housing market beginning an upswing.
Are you looking for creative ways to roll out the welcome mat? If not, you should be. Talk to realtors about providing a "Welcome to the neighborhood" packet. Check in with the Convention and Visitors Bureau. Work together with neighboring businesses to provide cross-marketing opportunities that appeal to new homeowners (and renters…don't forget the renters….).
To this day, I remember who the first neighbor was that rang my doorbell, toting a plate of home baked cookies (as well as the first one that brought wine, but hey). Put effort into nailing that first impression, then nurture what comes next, possibly for years.
Infographic courtesy of Entrepreneur.com