Nearly everyone has a PayPal account, for business and/or personal use. Today, (yet another) scam email landed in my inbox, but this one took a new approach.
This one tricks you into being a good Samaritan. 
Here's what landed in my inbox:
My reaction: "Huh? I don't recall an automatic payment coming up."
So I read the message: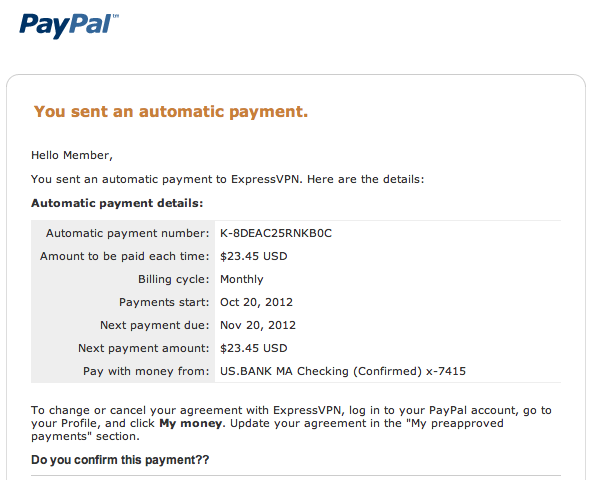 First reaction: "Huh? I paid my VPN service a few months ago, for the entire year."
Next reaction: "Hang on—that's not my bank."
Conclusion: Someone else's alert ended up in my inbox. Better let PayPal know.
That's what the scammer is betting on. By providing a handy "Do you confirm this payment" clickable link, they make it easy for well-meaning folks sweep in and save the day, either by denying payment or contacting PayPal about the mis-routed message.
Gotcha.
Thankfully, I don't click email links. Instead, I manually went to the PayPal website, which is when red flags began to appear. You see…I don't have a PayPal account connected to that email address. Still, not wanting to leave someone else in the lurch, I tried logging into PayPal with this address, using the "Forgot my password" option, in case there was some ages-old account lurking in my past.
Sure 'nuff. No account found. Confirmation this was a scam.
Back to the inbox.
Upon closer inspection, I found a couple of clues that should have tipped me off, had my better side not leapt into "Do unto others" mode.
See that little period at the beginning of the Subject line? PayPal wouldn't let that kind of typo slide–especially on an automated message that goes out thousands of times daily.

Next, I looked at the message header itself. An even more obvious red flag stood out:

At first glance, it looks good, but…. The domain ends with .co, not .com.
Wrong.
(Sure, the weird dangling m> seems obvious now, but how often do you actually read the "From" address letter for letter? Especially one that normally appears in your inbox?)
For years, I've been telling folks to only click email links sent by trusted sources. Lately, my advice has changed—never click links from anyone you have an account with (banks, credit cards, PayPal, Google Checkout, airlines, hotels, electric companies, cable companies, etc.). If you own something of value that the sender oversees—financial, points, credits of any kind—it's worth the effort to open a new browser window, manually visit their site, and confirm the request is valid.
Otherwise, you might be the one who needs saving.