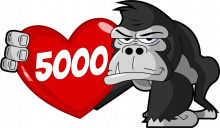 Ahhh, the social media vultures have arrived….
Now that Facebook admins are seeing the impact of EdgeRank on each post (the frightfully low percentage of audience reached that was discussed here), a few are beginning to panic. How do they increase their fan reach? How do they hang onto current fans? How do they extend into Twitter? Google+? YouTube? 
Sadly, that kind of worry brings out the aforementioned "vultures:" Tech-savvy cretins who promise tons of new fans, fast, for cash.
Let me be clear about this. I'm not referring to legitimate marketing professionals who craft long term strategies to build and retain interactive online audiences.
I am referring to anyone who promises X number of new fans in X amount of time for X dollars. A rocket-fast fan count increase with no strategy for retaining or engaging an audience long term.
In other words, social media bounty hunters.
This morning, I received (yet another) unsolicited email (spam) from a site giving the (false) impression they're guerilla marketing experts. On their site, they promise to deliver up to 5,000 new Facebook fans in 5-7 days for $99, stating: "Don't expect these Facebook fools to buy your products or interact with your posts. They are there to make you look good…not give you back chat!"
Translated: "We'll kill your Facebook audience reach by lowering fan interaction. Just hand us your money."
Their Twitter pitch isn't much better—25,000 new followers in a couple of weeks, bragging that "these Twitter morons" won't be any more loyal than the FB "fools."
Yeah. That's exactly who I'd hire to boost my online presence and credibility. Some Neanderthal who thinks my audience is a bunch of idiots (not).
(Huh. Maybe it's not so ironic their logo is an ape after all.)
Again, let me be clear. The only (read: ONLY) way you can increase and retain a fan base on Facebook is through interactive fan engagement. If fans don't "give you back chat," EdgeRank will see them as dead weight, decreasing the percentage of fans reached on new posts.
The only way to retain Twitter followers is to avoid hammering them with vapid crap (sorry for the language, but it's accurate) at machine gun speed. Do that, and you're toast.
If you want to be relevant, respected, successful, and beloved (face it, we all want that), you need to earn it. Have a plan. Work the plan. Provide real content with real people behind it.
And don't cave in when the snake oil salesmen rings the doorbell.
Feel this post is worth reading? Please click the share buttons below to spread the word (always appreciated!).