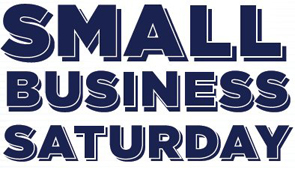 Please note:
As of May 2011, The 3/50 Project no longer supports SBS, for reasons explained here. Had I known then what I know now…..
Those of you who have been on The 3/50 Project website recently may—or may not—have noticed an odd space in the Special Promotions section of our Resources page, just to the left of our Big Things come in Small Boxes icon.  Well, there's a reason for that. There's something special going on…
…and you're gonna love it. Welcome to Small Business Saturday. 
When American Express OPEN approached me about becoming a sponsor of The 3/50 Project, conversations began about ways they could not only help small businesses, but tap into the huge pool of American Express cardholders (read: consumers) necessary to support independent merchants. Next thing you know, Tom's on the phone saying "Cinda, we have an idea."
Enter Small Business Saturday.
Let's face it. Black Friday has been gobbled up by big box retailers. Cyber Monday is the domain of online retailers. American Express (and The 3/50 Project!) want to take back the Saturday of Thanksgiving weekend and make it all about locally owned, independent, brick and mortar businesses. We want to inspire consumers to shop with the little guys that day, not head off to the national chains instead.
So…how's this going to get out to consumers?
• Small business owners can download free marketing materials and social media tools to spread the word by visiting SmallBusinessSaturday.com
• The first 10,000 small business owners who register on Facebook.com/AmericanExpress will receive $100 worth of free, geo-targeted advertising on Facebook (11.23.10 UPDATE: You guys are gooooooood. Just found out all 10,000 ad credits have been scooped up. Well done!)
• American Express OPEN has scheduled a satellite media tour featuring Yours Truly as the national spokesperson for Small Business Saturday. That means the person talking about all this local, independent business goodness is the one who lives, eats, and breathes it 24/7.
To make sure their own consumers get the message, American Express is offering a $25 account credit to cardholders who register on the Small Business Saturday website, then spend at least that much with locally owned, independent brick and mortar retailers on November 27th. Cool, huh?
Between The 3/50 Project's Big Things campaign and Small Business Saturday, you have two solid game plans to carry you through the end of the holiday shopping season. So what are you waiting for? Go get 'em, Tiger!