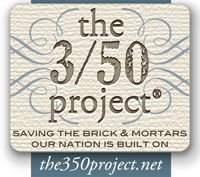 It's an age-old story: Single girl, single boy. She's connected, he's from the other side of the tracks. He pursues her, she declines (and declines, and declines).
But eventually, he finds the magic words. She gives him a chance. They date. Things get serious.
She ignores warnings from those familiar with the fellow while introducing (and defending) him to the family. They make their relationship official, giving him creditability within the circle of influence he's admired from afar.  They're the golden couple at the Big Holiday Party.
Then, after the holidays have passed, her  phone stops ringing. She calls, she emails. She wrestles for scraps of conversation.
After months of heartache, she quietly takes off the ring.
Then it happens. The inevitable. People begin asking questions.
Sadly, this mirrors the brief relationship between The 3/50 Project and American Express.
Boy meets girl
June 10, 2010
A New York PR agency contacts me on behalf of American Express OPEN regarding possible Project sponsorship.
Boy pursues girl
June, July, August, and September 2010
I listen, but don't commit. Just not convinced they'll be around for the long haul, and am more than a little leery of a large financial institution that's been bumping heads with independent merchants the past couple of years.
Boy finds the magic words
October 8, 2010
The AmEx team pitches a "super secret big idea" that might, if done properly, bring a lot of visibility to the pro-local/independent message. They ask for advice. I give it. They take it, embrace it, and retool to fit my suggestions.
Still…I have doubts about whether or not this would be a good relationship for the Project.
Girl gives boy a chance, they date, and things get serious
Late October 2010
After lots of soul searching, I convince myself the little voice is the back of my head is wrong—there's no reason to question AmEx and their commitment to long term sponsorship of The 3/50 Project, or their interest in mending fences with independent merchants. After all, this "super secret big idea" is going to make a big splash, giving independent brick and mortars some much-deserved visibility. Surely, they wouldn't go to all that trouble unless they were in this for real…. As a result, and on behalf of The 3/50 Project, I agree to support the "big idea," to bring AmEx on as the Project's exclusive Premier Sponsor, and personally agree to be the "super secret big idea's" (paid) national spokesperson.
She ignores friends' warnings, introducing (and defending) him to the family. They make their relationship official…
November 8, 2010
I introduce American Express OPEN as The 3/50 Project's exclusive Premier Sponsor, which garners waves of anger, disbelief, and warnings from small business owners, both within and outside the Project. I stand up to each, representing AmEx as our champion, and the champion of independent merchants everywhere.
American Express announces the creation of "Small Business Saturday," introducing me as its national spokesperson.
…giving him credibility in the circles of influence he's admired from afar.
(ie, the entire "buy local" movement, and, by extension, hundreds of thousands of small businesses and independent merchants.) After all, this new sponsorship of The 3/50 Project surely must mean AmEx is turning over a new leaf…right?
They're the golden couple at the Big Holiday Party.
November 27, 2010: Small Business Saturday
The entire day is spent basking in the wonderful thing AmEx was doing for independent business as three of us (me, plus someone from AmEx OPEN and their outside PR firm) run from one media interview to the next, throughout the whole of New York City. Merchants are happy. Consumers are happy. Everyone is happy. Happy, happy, happy. We're practically swimming in Joy Juice. The day is a raging success.
Then, after the holidays have passed, her phone stops ringing. She calls, she emails. She wrestles for scraps of conversation.
January – early April 2011
(Literal translation.)
Finally, in early April, there's a conference call, but…no one wants to talk about sponsorship funding. They want to talk about Small Business Saturday, nearly eight months away.
After months of heartache, she quietly takes off the ring
May 2011, Memorial Day weekend
After five months of no sponsorship funding, I quietly remove the logo and all mention of American Express and Small Business Saturday from The 3/50 Project website, without flaming blog posts or Facebook announcements. The goal is to avoid burning bridges, in hopes the relationship can be saved.
People begin asking questions.
August 2011
First, during the Las Vegas Gift Show, then two weeks later at the New York International Gift Fair, dozens of people begin asking what American Express is doing to help the Project, if they helped develop LookLocal, and how we'd be working together for Small Business Saturday this year.
Time to come clean. Time to admit the relationship failed—for one of us, anyway (as is so often the case with these things).
Hindsight: The Great Truth Serum
Looking back, I see the entire relationship hinged on one word: Credibility.
Credit card companies need independent brick and mortars to stay in business; a lot of revenue comes from those swipes. Small Business Saturday would not only push additional holiday purchases through merchant card terminals (revenue), but would simultaneously bolster the American Express image as that of a small business hero.
(The technical term for this practice is "cause related marketing." Pick a popular cause, then align your company with it to sway the masses in your direction.)
Without the endorsement of a highly regarded "pro-local" organization, however, Small Business Saturday could? would? be perceived as a self-serving corporate promotion, funneling web traffic to the AmEx-owned Small Business Saturday website and AmEx-owned Small Business Saturday Facebook page…deriving additional revenue from businesses who accept AmEx cards…mining yet more revenue from AmEx cardholders enticed by Small Business Saturday account credits.
To lose the "corporate beneficiary" perception, American Express needed to wrap Small Business Saturday in in a small business wrapper, which meant winning over small business owners—a disproportionate number of which weren't feeling very "warm and fuzzy" about AmEx. They needed those merchants to talk it up and take it viral. They needed an open door and "small business street cred" they didn't have on their own.
They needed to date someone credible from within the circle of influence.
Someone who would hold their hand and walk them into the dance. Someone well-liked by small business owners, with loads of positive press, who wasn't political, and didn't throw Big Boxes under the bus (many of which are sizable AmEx customers). Someone highly visible in the pro-local movement who could introduce them to the family, then stand up to Mom and Pop in their defense.
They needed The 3/50 Project.
Did I drink the Koolaid when I should have reached for scotch?
No, I don't believe so. You see, nearly every conversation during the "wooing period" (early June through late October) included me saying "I'm not looking for a short term partner; The 3/50 Project is only interested in a long term financial sponsor."  And every time I uttered that statement, it was met with repeated assurances that American Express wanted the same thing, long term sponsorship with no meddling from afar. They had the funds; I had the expertise. The last thing they wanted to do was complicate or disrupt the Project's forward momentum.
After four months of hearing "Me too" in response to the L word ("Long," followed by "term"), one tends to believe it.
A lot of promises were made during a lot of phone calls and one particular face-to-face meeting in New York. A lot of "long term" sponsorship assurances were voiced that disappeared after Small Business Saturday.
And a plethora of calls and emails were left unanswered during the first several months of this year, as I scrambled to find out what had happened to our funding.
So why go public with this now?
Two reasons (actually, four, if you count the fact I wanted to let the dust settle to avoid accusations I'd rushed to judgement -and- making absolutely sure I wasn't violating contractual agreements that had yet to expire): 
1. When questions began popping up at Las Vegas Gift and New York Gift about what wonderful things AmEx was helping us with, vague responses became increasingly difficult to conjure.
2. We need financial sponsorship. Unlike other "independent" or "buy local" organizations, The 3/50 Project isn't owned by a large corporation or financed by mandatory membership dues. The Project is currently funded (and I use that term loosely) by a virtual tip jar on our website and Facebook page, a sliver-thin "profit" margin from the store tab on our website, a spontaneous $1,000 donation from Juice in the City…and my savings account (that last one is definitely a step backward). We're upright, no question. But future expansion requires reliable, budgeted sponsorship funding.
So now we're the ones looking for a date. Or, more accurately, several dates. Never again will I entrust all our financial eggs to someone else's single basket.
In the spirit of full disclosure, so there are no misunderstandings
• In June (after six months of me pushing) AmEx eventually proposed funding for this year—11% of what I was led to believe would be their annual financial commitment. After taxes, there wouldn't be enough left to cover our website for twelve months, let alone move the Project forward.
• On July 11, I appeared at a Baltimore event as the official spokesperson for Small Business Saturday. The event organizers approached me early in the year about doing this, prior to my realization things were headed south with American Express. Before accepting the offer, I asked for, and received, the blessings of AmEx—with those in hand, the event contract was signed. By the time the engagement rolled around, my faith in their sponsorship was quickly eroding. Not being someone who leaves a client in the lurch, I did the appearance, with a smile, and without letting on that there were problems between the Project and American Express. My speaking fee was paid by the event host; AmEx was not billed for the appearance, nor did they pay me for it.
• AmEx did, however, ask me to return as the (paid) national spokesperson for Small Business Saturday 2011. My response was clear: There would be no discussion about my role as spokesperson until sponsorship of The 3/50 Project was resolved. As explained to both their PR representative and the point person at American Express OPEN, there's no way I would represent an American Express promotion while The 3/50 Project was "left on the curb."
Would the paycheck have been nice? You bet, since I'm not paid a dime by the Project.
Would I have been able to look myself in the mirror each morning? Nope. Selling out my integrity for personal financial gain at the expense of The 3/50 Project isn't in my DNA—the same DNA that came from Grandpa Baxter and Dad, who built a successful three-generation family business on the simple premise "My word is my bond."
Translated: If you make a business commitment, you stand behind it.
Time to turn the page
I believed in this relationship. I fought for this relationship. I hung in there for months after most would have walked away from the relationship, determined to get things back on track. Then, at last, I finally let go of the relationship, accepting the truth, that things ended long ago. I worked my way through the seven stages of grief, on behalf of all you wonderful independent brick and mortars whose hopes were as high as mine (while resisting the urge to blog during the anger phase in mid-July—a truly Herculean effort).
Relationships need more than complementary personalities to function well (the great irony in all of this—I truly like the PR and AmEx OPEN people I interacted with). Successful relationships require open, honest, free-flowing communication…transparency of intent…and commitment that follows through.
I'm game. Let the dating begin.