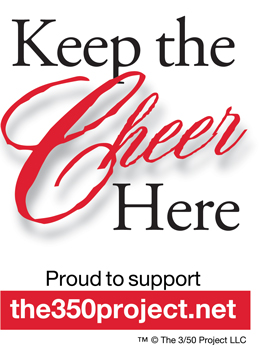 You guys are GOOD. Thanks to all the creative minds out there, selecting a winner from the hundreds of great titles submitted during The 3/50 Project Holiday Campaign Name Contest was tough. Tough. Of the lot, however, it was Julie Ward, a consumer in southern California, who came up with four magic words that shone brightest: Keep the Cheer Here.
(Side note: I had to break out in a huge smile on Delta's Atlanta-to-Minneapolis flight when the guy across the aisle, one row back, saw me designing the poster on my laptop and said "Keep the Cheer Here–that's really good. What's it about?" Bingo.)
Since the whole idea is to promote the heck out of our wonderful, independent, locally owned brick and mortars, there are more free downloadable materials than ever before to work with:
• Poster: 8.5 x 11
• Poster: 11 x 17 with red band at top
• Poster: 11 x 17 without the red band
• Postcard: 6 x 9
• Print logo: 5 x 5
• Blog slug: 100p x 100p (yes, I heard your requests)
If you cruise to the Resources page of The 3/50 Project website, you'll find Keep the Cheer Here in the Special Promotions section. Plus, if you're a fan of our Facebook page, there's (yet another) Supporter Profile Pic for your enjoyment. Just click the photos link on the left side of the page to find it.
In the near future, I'll be running a profile piece about Julie, so stay tuned. Can't wait to introduce everyone!