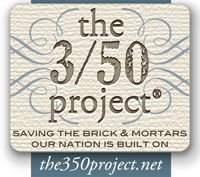 Sorry 'bout the long title, but I need this to blast to Twitter too…
A respected financial publication wants to interview merchants who fit all three of the following criteria:
Are actively working in tandem with other local businesses, promoting The 3/50 Project
Are in communities that have seen positive impact as a result of The 3/50 Project
Are located in one of the following states: MT, WY, CO, NE, IA, MO, KS, IL, WI, MI, ND, SD, or MN
If that's you, please contact me via email here, as soon as possible.
The publication's audience is made up of local community banks in the states listed above. The writer is looking for positive stories about communities who got involved in our movement, then thrived as a result. This is not a reporter looking for an ambush—he's the "real deal," and very excited about what it is we're doing.
Gotta love good press!