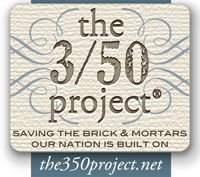 Feel like winning a little green? Getting a little time in the spotlight? Cool beans, baby. Fire up the right side of your brain and tell us what The 3/50 Project should call our holiday campaign this year.
Here's what we're looking for:
• 10 words or less
• Original content only
• Must be free of all TMs and copyrights
As examples of our past campaigns (both holiday and otherwise):
- Eat Down the Street
- Roll Local
- Big Things Come From Small Boxes
- Locals Love You More
Enter as many ideas as you like (no repeats, though, since it won't help your odds…the final decision will be based on creativity, not the number of entries).
Full details and the entry form can be found here, as well as via the Survey Monkey link on our Facebook page (left column). You must use the entry form—ideas left here in the comments are not considered "entries." [10.27.11 Editor's note: I've turned off comments on this thread since so many kind hearted folks were still putting their suggestions here...gotta use the official entry form, linked above, if you want to win the prize!]
Contest ends at 12:01 a.m. CDT on November 1, 2011.
Helpful hints as you put on your thinking cap….
• Avoid the words "shop" and "buy" since they exclude service providers, restaurants, and other non-retail store merchants
• Nothing political in nature, please, since that polarizes consumers. We don't want to appeal to only one side of the aisle, as the saying goes–merchants need 'em all. (Translated: The word "occupy" isn't your best option.)
• To enter more than once, clear browser cookies/cache between visits. Survey Monkey uses them to avoid multiple survey responses in normal scenarios—our contest is a bit abnormal, which is completely normal if you're an independent merchant. (Been there, done that, so I can call us crazy.)