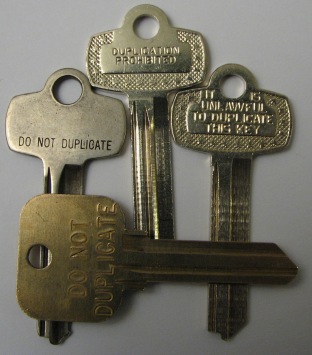 This is one time I'm going to let someone else do the ranting about something near and dear to my heart: people ripping off other people's designs and/or intellectual property. As a free lance designer for more than 30 years, I know all too well how it feels to have my original work show up under someone else's name.
My only real frustration involving The 3/50 Project has been the constant chase of trademark and copyright violations when someone uses our graphics or content for purposes other than as described on the site (occasionally going so far as to strip off our © ® and/or footnote attributions, which blows my mind). Doesn't matter how many legal warnings or circle R and circle C symbols I splash all over the place; some folks just turn a blind eye, ignoring the fact those assets are owned by somebody else.
And make no mistake. These actions are illegal (both state and fed), not to mention expensive (you don't want to know how many thousands of dollars were spent on all these ® and ©…quite an investment).
But I said I was going to let someone else rant about this, didn't I? Well, here you go. Meet Debi Ward Kennedy, who pretty much nails it in her recent blog post, "Enough is ENOUGH." Now, before you trot over there to read her missive, please know (a) I've never met Debi, and (b) am deeply flattered by the nice things she's said about me. Regardless of both points, her blog post is right on, speaking to every creative out there whose business and income relies on control of their intellectual property and original designs.
The good news? There's support for us right brainers. The bad news? It's not here in the U.S.
Last spring, Sarah Reeve (Editor, Gift Focus Magazine in the U.K.) told me about a terrific European organization called ACID-—Anti Copying In Design, an action group dedicated to fighting IP theft, understanding that creative work is inventory with commercial value. Their membership base hits all the necessary notes: "textile designers & manufacturers, jewelers, furniture manufacturers, giftware designers, architects, fashion designers, interior accessory producers, graphic designers…over 1,000+ member companies…with one shared voice," according to their website.
They "get it." They mediate. They legislate. They stand up for what's right. They rock.
So where's the U.S. version of this? Is there someone doing this here, but no one knows about them?
My hope is that one of the myriad of talented, committed people in the retail industry will take up the cause, founding a similar organization that encompasses not only vendors in the gift, stationery, and home decor fields, but allows retailers to participate too. There's a lot of amazing work being done out here in the trenches…and a lot of it being ripped off.
Please check out Debi's blog post, then talk to anyone and everyone who might have some weight to throw behind the cause. It's time an organization be formed to protect the extraordinary designers that define our businesses and world.