Killer chocolate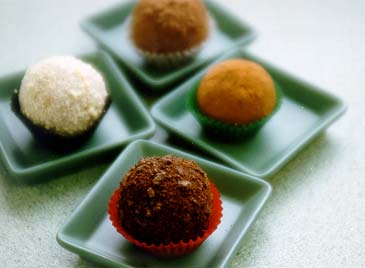 Yeah, I'm hooked. What of it?
Here are my favorite chocolate sources; should anyone feel it appropriate to send me a box as thanks for sharing them, feel free….
.
Killer handmade truffles (pictured above)
The Chocolate Garden
chocolategarden.com
To rock your world, try: Dark Chocolate and Cinnamon Love
Killer liquid filled chocolates (thin shells)
Quintessential Chocolates, Inc.
liquidchocolates.com
To rock your world, try: Sam Houston Bourbon and
Carlschafen Ruby Port
Killer mixed chocolates
Candinas Chocolatier
candinas.com
To rock your world: Take a chance. They change up the flavors all the time; order a 25-piece box and revel in joy.
Killer caramels (not chocolate, but tasty nonetheless)
Fran's Chocolates
franschocolates.com
To rock your world try: Gray Salt Caramels. Dark or milk chocolate. Divine.
.
Got suggestions of your own? Add 'em below. I'm always game for experimentation.
Please refrain from listing store hours or including marketing language so I don't inadvertently turn into a big chocolate billboard. Thanks!